Immediate Release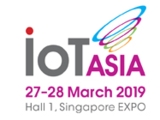 IoT Asia 2019
Date: 27 - 28 March, 2019
Venue: Singapore
IoT Asia is an award winning event that brings solutions providers, technology heads, design / solution architects, engineers, academic institutions, investors and start-ups together for an enriching learning and sharing experience. IoT Asia 2019 will be held from 27 – 28 March in Singapore EXPO. The exhibition and conference will address the interests of the IoT ecosystem players within the 5 key segments - Smart Cities, Industrial IoT, Artificial Intelligence, Blockchain, Data Analytics and Enablers.

Visit www.internetofthingsasia.com for more information.
Registration with 15% off exclusive discount: Click Here
Download the event app for more infomation!

For any enquires, please do not hestitate to contact SIAA & SingEx Exhibitions Pte Ltd at +65 6403 2100 / sales.iotasia@singex.com or us at keith@hkfec.org.