FOR IMMEDIATE RELEASE
Appointment of HKFEC's Board Advisor
On 9 June 2017, Hong Kong Federation of E-Commerce (HKFEC) is pleased to announce that Ms. Alexis Wong, Founder and CEO of MobiJuce Limited has accepted our appointment for HKFEC's Board Advisor.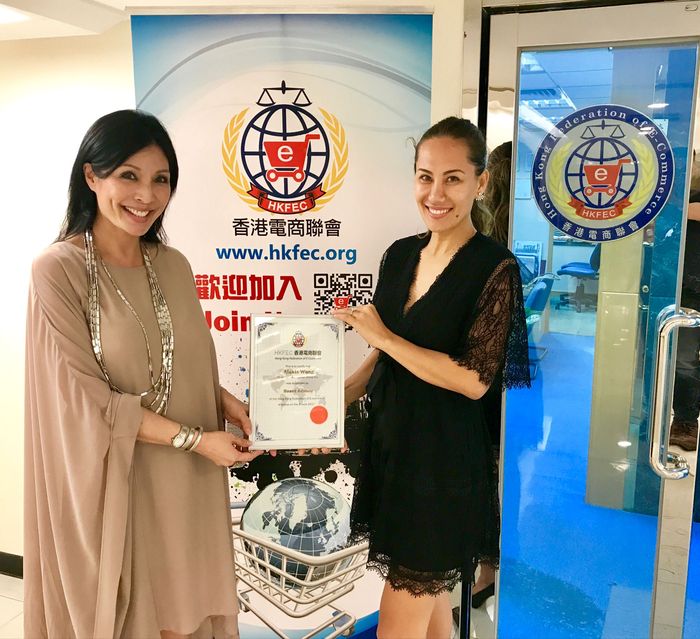 Alexis is the founder and CEO of MobiJuce Limited, which is an IoT platform offering shared economy lifestyle solutions to consumers. Alexis leads an integrative investment and launch platform for new business models and technologies from the US to launch and commercialize in the Asia Pacific Market. Prior to founding Vesta, Alexis founded and operated Blinq in China which is the world's first O2O (Online to Offline) total marketing solution platform in metro systems. In just two years, Blinq established an active user base of over 4.5 million members and a proven marketing platform with a client network of over 150 international and Chinese brands ranging from startups to Fortune 100 companies and successfully executed over 350 marketing campaigns.
Previously, Alexis founded and was the CEO for Prometheus Partners and led many cross-border advisory and M&A initiatives between China and US, including the Huawei bid for a USD $5 billion cellular network contract with Sprint, China Ministry of Railway's California high speed rail initiative, CRCC/China Development Bank's USD $1 billion infrastructure financing in the US. Alexis also founded AGI Capital Group, Inc. (now Avant Group) in 1998 in San Francisco, which is now a multi-faceted real estate development company that has overseen more than USD $2 billion of development and investment opportunities with CalPERS.
Over the years, Alexis has been appointed to various prominent state boards and commissions, namely, the California Real Estate Advisory Board, the COIN Advisory Board overseeing insurance industry, California World Trade Commission, Asian Pacific Islander Affairs Commission, and the California Small Business Advisory Board. Alexis has been recognized by the San Francisco Business Times as one of the "Top 100 Most Influential Women in Business" and "49 Most Influential People in San Francisco," and one of the "Top 50 Asian American in Business in the U.S." by the Asian Economic Development Center in New York. In June 2007, Alexis was recognized by the California State Assembly for "Excellence in Business" in the State of California.
Alexis, with her background and professional skills, is delighted to share her thoughts and ideas in the E-commerce industry.
Please join me to give the warmest welcome for Alexis to be our new member.
Mei Ling Talibart
Vice Chairman, HKFEC